5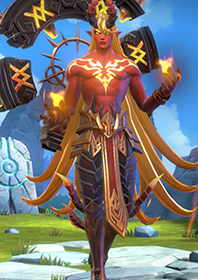 Rarity :

Legend

Role :

Attack

Element :

Fire

Mana Cost :

5
Fire Crush
Attacks all enemies with burning flames to grant Oblivion and to inflict damage.
Basic Stats

Skill Stones

Mach Crush
Increases damage by 5% per harmful effect granted on the enemy target when using Fire Crush.

Ancient Power
Fire Crush grants Stun on the target additionally with a fixed chance.

Magic Power Extinction
[Passive] Removes harmful effects granted on all allies whenever you get Tesarion's card in your hands.