3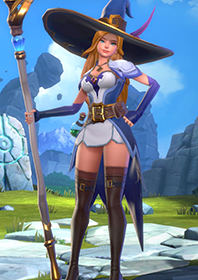 Rarity :

Rare

Role :

Support

Element :

Water

Mana Cost :

3
Witch's Secret Spell
Grants Acceleration I and ATK UP on all allies.
Basic Stats

Skill Stones

Beneficial Effect
Increases the Acceleration and ATK UP duration of Witch's Secret Spell by 3 sec.
Meditate
[Passive] Increases the initial Mana by 2 at the start of the game.

Toad Poison
[Passive] When an enemy gets beneficial effects, immediately removes that beneficial effects and blocks the enemy from receiving beneficial effects. The cooldown time exists.
There is no item yet... Be the first to add and help the community!
Comps with Megan in Lost Centuria