4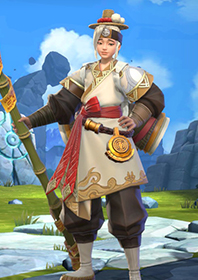 Rarity :

Rare

Role :

HP

Element :

Light

Mana Cost :

4
Thunderbolt Soul
Attacks the backline enemies and grants the target if the ATK DOWN II. Stuns target has the Deceleration effect.
Basic Stats

Skill Stones

Harmful Effect
Increases the ATK DOWN duration of Thunderbolt Soul by 3 sec.

Damage
Increases the damage of Thunderbolt Soul by 20%.

Secretive Guard
[Passive] If another ally receives an attack that may cause death, resist the death and shares 30% of your MAX HP. The effect is not activated if your MAX HP is or lower. If multiple targets get defeated at the time, the forefront ally will become the target. The cooldown time eixts.
There is no item yet... Be the first to add and help the community!