4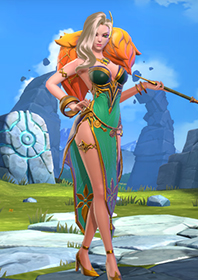 Rarity :

Legend

Role :

Support

Element :

Wind

Mana Cost :

4
Promised Time
Installs a bomb on the forefront enemy. Fast forwards the time to decrease the duration of all removable effects granted on all enemies and inflicts damage.
Basic Stats

Skill Stones

Harmful effect
Promised Time installs 2 bombs on the forefront enemy.

Mana Cost
Decreases the Mana cost of Promised Time by 1.

Ominous Prophecy
[Passive] Changes the beneficial effects granted on the target to Continuous Damage when using Promised Time. There is a cooldown time.
There is no item yet... Be the first to add and help the community!
Comps with Seara in Lost Centuria