5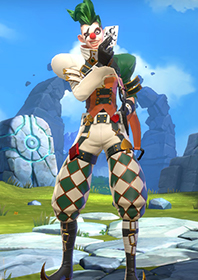 Rarity :

Hero

Role :

Attack

Element :

Wind

Mana Cost :

5
Amputation Magic
Attacks all enemies with powerful card magic. This attack ignores the target's Defense.
Basic Stats

Skill Stones

Mana Cost
Decreases the Mana cost of Amputation Magic by 1.

Damage
Increases the damage of Amputation Magic by 20%.

Surprise Box
[Passive] If an enemy attacks you with a single-target attack skill, instantly bursts out the surprise box to Stun the target. The cooldown time exists.
There is no item yet... Be the first to add and help the community!